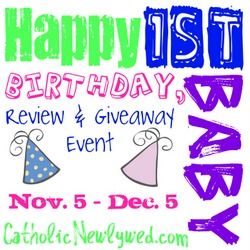 Oops, I'm running a bit behind, so I will continue to post new giveaways until the 10th! Scroll down for the links to all current giveaways. (Scroll to the bottom to see completed giveaways and check winners!)
Reusies
is giving away a two pack of their
reusables snack/sandwich bags.
See my review here.
Dec. 5-Dec.9
See winner here.
Win a $35 credit for party printables and
invitations from
Daysigns
.
Scheduled: Dec. 6-Dec. 13
See winner here.
Win this adorable
Musical Stack & Ball Game
from
Tiny Love
.
See my review
here
.
Dec. 6-Dec. 10
She winner here.
Juppy Momentum
in the color and with the personalization of his/her choice!
is giving away an Organizing Utility Tote,
a Zipper Pouch, and a scarf...
and a SECOND prize of 25% off
an entire Thirty-One order.
Not just for pregnancy, it contains invaluable advice
Look for reviews of these products and make sure to visit the blog frequently between November 5 and December 5 to enter these giveaways!